No, this is real. Bruce has finally suited up as a vigilante hitting the streets of Gotham. However he now has a new suit as of Season 4. This is what it looks like.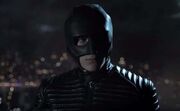 So that isn't the only thing revealed in the trailer for Gotham, Alfred says in the trailer that he is fighting villains and that seems to be causing some conflict between them. Hopefully that doesn't break apart their father/son dynamic.
As for the suit, i'm hopeful it changes. I have a very 2000's X-Men/Kick-Ass vibe from this suit. I am not liking it. The suit is kinda cool, it is the mask that is the problem. But i want to know your opinion on Bruce's progression as Batman. Is it a good idea? Is it bad? What is your opinion on the suit? Leave it down below.
Ad blocker interference detected!
Wikia is a free-to-use site that makes money from advertising. We have a modified experience for viewers using ad blockers

Wikia is not accessible if you've made further modifications. Remove the custom ad blocker rule(s) and the page will load as expected.